Governor Signs Senator Allen's Landmark Plastic Pollution Bill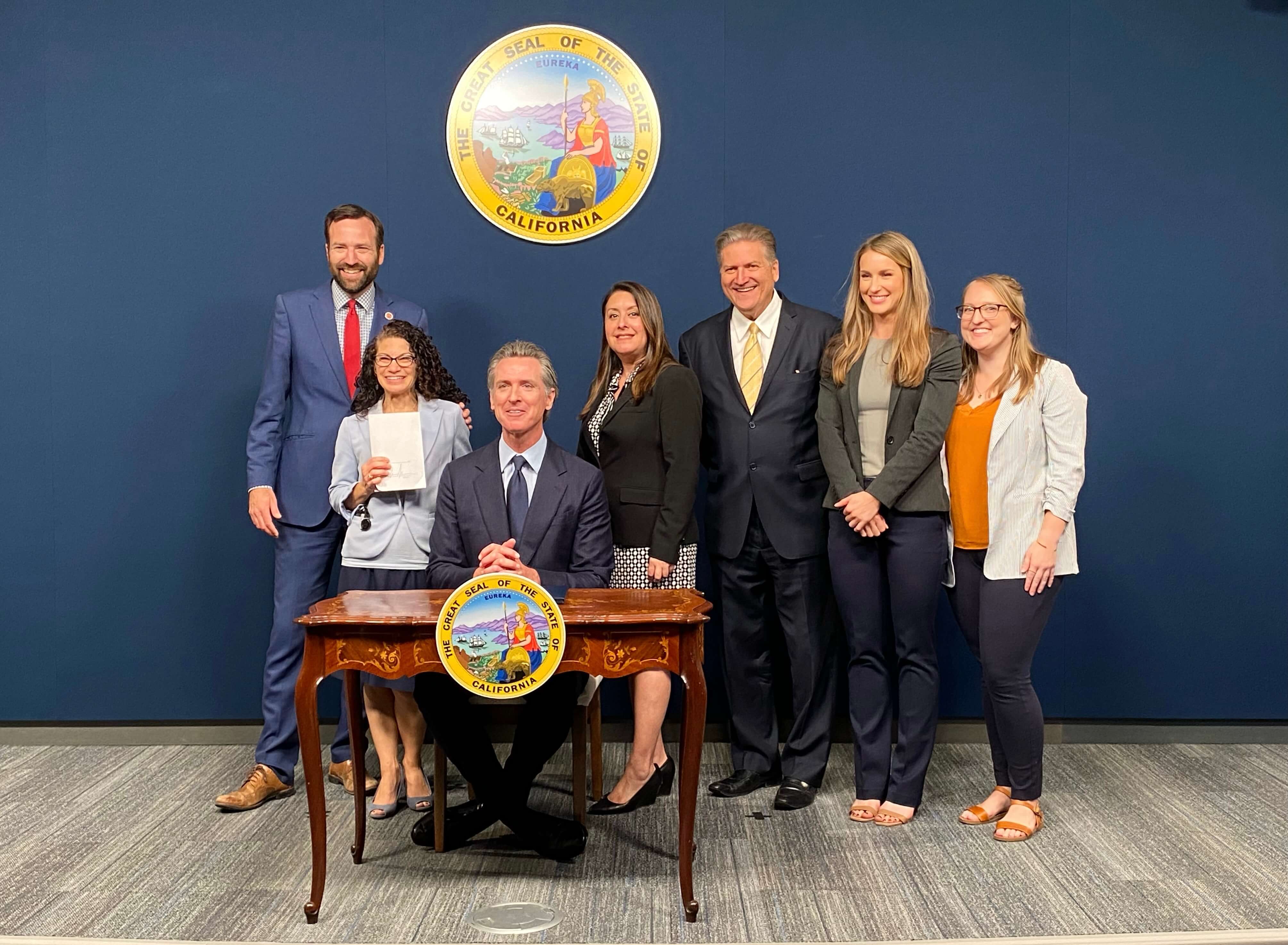 Governor Signs Senator Allen's Landmark Plastic Pollution Bill
SACRAMENTO ­­­­­­­­­­­­­­­­­– The most comprehensive measure in the nation to address the plastic waste crisis was signed into law today by California Governor Gavin Newsom. Authored by Senator Ben Allen (D – Santa Monica), Senate Bill 54 places the responsibility for costs on the producers rather than the local communities who pay for waste management and recycling.
"For far too long, plastic waste has been a growing burden for humans, animals, and the water, soil, and air we need to exist," said Senator Allen, who chairs the California Legislature's Environmental Caucus and the Senate Environmental Quality Committee. "We knew that we needed to act. And in this time of extreme polarization in our nation, California was able to show that we can pass strong environmental legislation with bipartisan support that brought together the environmental and business communities. I'm so grateful to the ballot measure proponents who helped to force this issue, the many advocates who worked so hard through the negotiations, and the legislators and staff who recognized the need for action. With this new law, California continues its tradition of global environmental leadership – tackling a major problem in a way that will move and grow markets in sustainable innovations, create incentives for investment, and give tools to other states and countries to help play their part in this fight."
Initially introduced in December 2018, the Plastic Pollution Prevention and Packaging Producer Responsibility Act is the result of four years of negotiation amongst dozens of business and industry representatives, environmental organizations, subject-matter experts, and government leaders. In the final committee and floor votes this week, SB 54 gleaned broad bipartisan support. Proponents of a similar but less predictable statewide measure withdrew it from the November ballot with just hours before the deadline to do so.
The new California law calls on the producers of specific materials (including single-use packaging and plastic food service ware like disposable cups, bowls, and cutlery) to form a Producer Responsibility Organization (PRO) to manage industry efforts to comply with the law's requirements. The PRO will create an implementation plan, which will be reviewed by a new advisory board composed of diverse perspectives and subject to final approval by CalRecycle.
The Act goes beyond the standard requirement of other producer responsibility programs that simply cover costs. The new law provides ambitious environmental mandates through a rates-and-dates system that will ensure all covered material is recyclable or compostable within 10 years and calls for a 25 percent reduction in the amount of plastic-covered material introduced to the market within the same timeframe. Additionally, the new law creates the California Plastic Pollution Mitigation Fund, which will dedicate $500 million per year for the next decade – paid for by industry – to fund the monitoring and mitigation of plastics pollution primarily in disadvantaged, low-income, and rural communities.
SB 54 is supported by dozens of environmental and community organizations, business associations, and local governments including Oceana, Ocean Conservancy, The Nature Conservancy, League of California Cities, Rural County Representatives of California, California State Association of Counties, National Stewardship Action Council, Monterey Bay Aquarium, Recycling Partnership, Association of Plastic Recyclers, California Public Interest Research Group, Environment California, American Sustainable Business Network, Seventh Generation, Western Growers, Waste Management, and more.
Ben Allen represents the 26th State Senate District, which consists of the Hollywood, Westside, coastal, and South Bay communities of Los Angeles County, and serves as Chair of the Senate Environmental Quality Committee and the Joint Committee on the Arts.
###