Wednesday, October 07, 2015
Enactment Signals Global Paradigm Shift In Clean Energy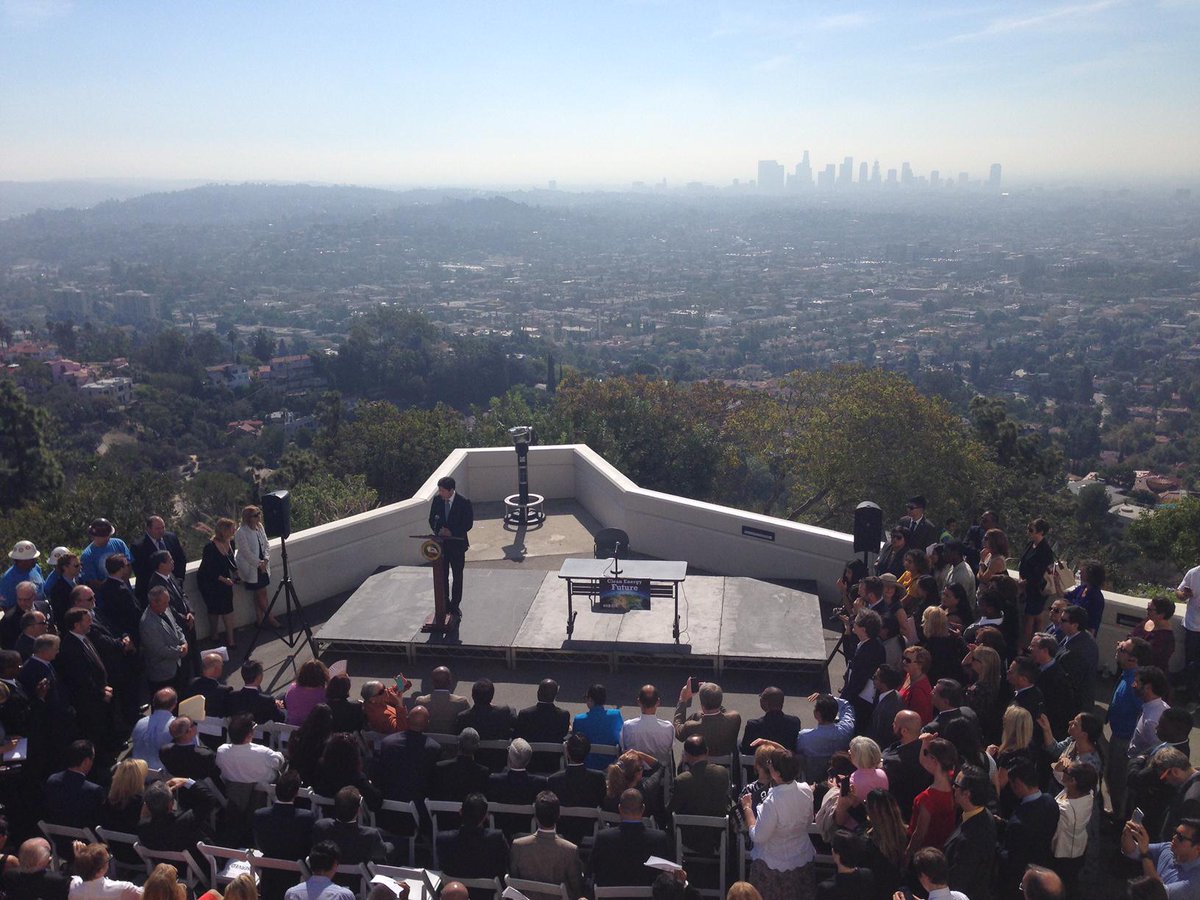 Senate President pro Tempore Kevin de León addresses supporters at Griffith Park Observatory signing ceremony, October 7, 2015
LOS ANGELES – Senate Bill 350, Senate President pro Tempore Kevin de León's landmark climate change and clean energy legislation, was signed into law at a ceremony overlooking his district in Los Angeles on Wednesday October 7, 2015. SB 350 requires California, the largest state in the union, to generate half of its electricity from renewable energy sources and double energy efficiency in all buildings by 2030, while also substantially building the infrastructure for electric transportation. The landmark measure doubles down on California's global leadership in powering the new economy of tomorrow. 
"Today, California is laying the groundwork for a healthier and more sustainable future for all of our families," Senate President pro Tempore Kevin de León said. "We are showing the world through innovation how we can transition and increase access to renewable energy while cleaning up the air we breathe, especially in our most polluted communities," Senator De León said. "With SB 350, we are making clean power sources like wind and solar the mainstream, democratizing the benefits to our economy and environment. Soon, whether you live in Boyle Heights or Beverly Hills; Modesto or Marin; Sacramento or San Diego; you will have the same access to clean electricity and clean air. Soon, those communities living in the shadows of smokestacks and freeway overpasses will breathe a little easier."
An unprecedented coalition of leaders from the business, faith, and scientific communities, as well as labor and public health advocates, came together to support the legislation and ensure healthier and cleaner air for California.
"California has taken groundbreaking steps to increase the efficiency of our cars, buildings and appliances and provide ever more renewable energy," said Governor Brown. "With SB 350, we deepen our commitment."

The enactment of SB 350 comes as international leaders prepare to negotiate a global agreement to limit greenhouse gas emissions in Paris this December. Christiana Figueres, Executive Secretary of the United Nations Framework Convention on Climate Change, had previously praised California's climate leadership, urging lawmakers to increase the "timeframe and ambition" of their efforts, and to "export" the state's climate leadership to jurisdictions around the world.
Remarks as prepared for delivery:
"Good morning and welcome! Today, we open a dynamic new frontier in our state's historic fight to protect our precious environment and construct the clean energy future that Californians—our children and grandchildren—deserve.
There was a time not so long ago when you could come to this park and stare out at the city and see only a vast blanket of grey smog. In fact, the smog was as much a Los Angeles landmark in those days as the Hollywood Sign or City Hall.  It made your eyes burn, your throat sting and, most of all, the sight made your heart ache.  Because we believed that air pollution was the cost of doing business – that environmental health and economic growth were mutually exclusive.  
Today, we are proving otherwise.  Thanks to our commitment to clean air, we can see the Los Angeles skyline clearly.  And we can see the stars in our sky.
I'm proud to call Los Angeles my home and its people my brothers and sisters. And I'm also proud that, thanks to the golden standards we set forth in SB 350, and that all of you helped to pass into law, we can see a much brighter and healthier future for Los Angeles and for the entire state of California.
Up and down this great state of ours, the people made their voices heard, overwhelmingly supporting the goals we set forth in SB 350. A remarkable coalition of forward-thinking businesses, faith leaders, public health organizations and prize winners in science and technology, came together to echo the sentiments of the people and the urgency of action.
And then there were the working families living beside our freeways, refineries, and factories, and those working in the fields, whose voices are rarely heard, whose quiet struggles are the reason I ran for office. Perhaps more than anyone else, today is a victory for them.  Because the new standards established in SB 350 aren't just numbers on a timeline – they are real jobs for real people – and healthier lives for their children.
With policies like SB 350, California is redefining the environmental movement. We are doing away with the tired stereotypes of environmentalism as a pastime of the wealthy and elite, and of clean energy as a niche market. We are democratizing the benefits of our clean energy and climate change policies, making clean air a universal right, and increasing access to healthy, affordable renewable energy.
Ultimately, we are mainstreaming clean power. Soon, whether you live in Boyle Heights or Beverly Hills; Modesto or Marin; Sacramento or San Diego; you will have the same access to clean electricity and clean air. In fact, we have families here today who have benefited from our efforts to expand clean energy in low-income communities.  Some even brought their new electric cars with them today. Soon, those communities living in the shadows of smokestacks and freeway overpasses will breathe a little easier.
SB 350 puts us on track to generate half of our electricity from renewable sources and double the energy efficiency of our buildings by 2030. No state in this nation, or in the world, for that matter, has adopted targets more ambitious in scale.
And with the Governor's signature on this bill, we are also opening the next chapter in our transition to a clean transportation future. SB 350 makes it a core mission of our electrical utilities to expand electric vehicle charging infrastructure, making driving an EV more convenient and more accessible for Californians at every income level, in every corner of our state.
The bill creates something that has been missing in our transportation market for nearly a century – legitimate competition for oil as the predominant source of fuel. This is a quiet revolution for consumers, public health, and the California economy.
California has planted a flag no less remarkable than the one the United States placed on the moon nearly half a century ago. We are demonstrating that it is possible for one of the great economies of the world to reduce greenhouse gases and create new clean energy markets that sustain strong economic growth.
And we're not done yet.  We're going to keep pressing forward, keep making history, until every single Californian can breathe clean air, drink clean water, and power their home, business or car with clean energy -- until the California example is the new global normal.
Thank you all for everything you have done to make today possible. Thank you for your commitment and your leadership.  And, of course, thank you Governor Brown for proving that the power of your pen is mightier than the ignorance of the past.  
I look forward to continuing to work together for a brighter future for our state.
Thank you."
Spanish
"Estamos muy felices en este día histórico, donde a partir de la firma del Gobernador Jerry Brown de SB 350 aumentaremos el acceso al aire limpio y democratizamos el acceso a la energía limpia y renovable. 
También vamos asegurar que nuestros edificios existentes sean más eficientes en el uso de electricidad.
La gente que sufre más, son los Latinos y los Afro-americanos, porque vivimos cerca de las autopistas y las plantas de energía y otras fuentes de contaminación que nos enferman. 
Estos californianos estarán respirando aire más puro y ahorrando miles de dólares cada año en sus cobros de gas y servicios de electricidad. SB 350 va a asegurar que logramos esto. 
Ahora nuestras comunidades podrán vivir en hogares y ciudades con energía más limpia y con un futuro más saludable que no depende en petróleo sucio. 
Escuchamos sus voces y vamos a seguir luchando para un futuro que protega esta tierra y el aire que nuestros niños respiran. Gracias por tu liderazgo. "
---

For more information about California's climate leadership visit: http://focus.senate.ca.gov/climate
#ActOnClimate #SB350 
###